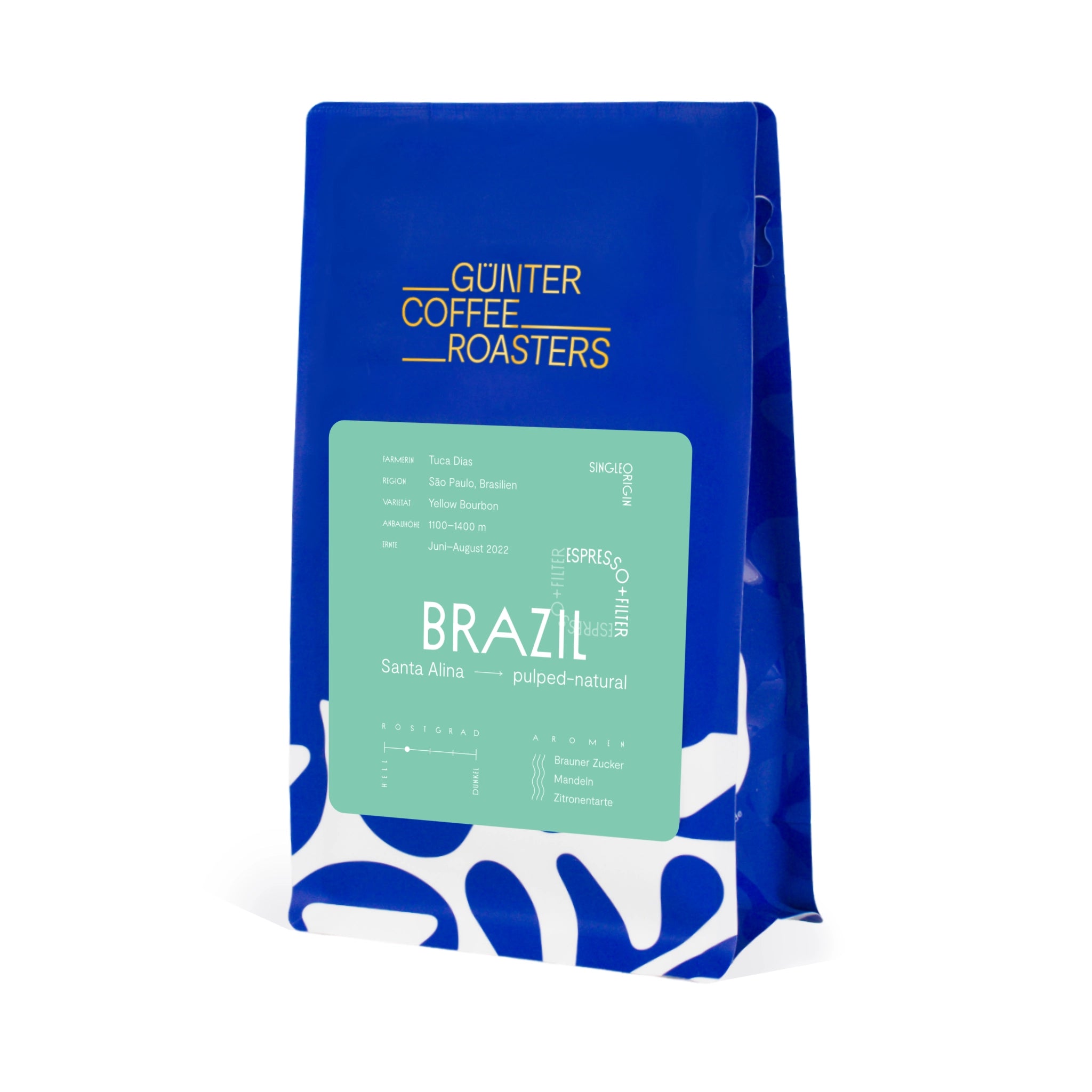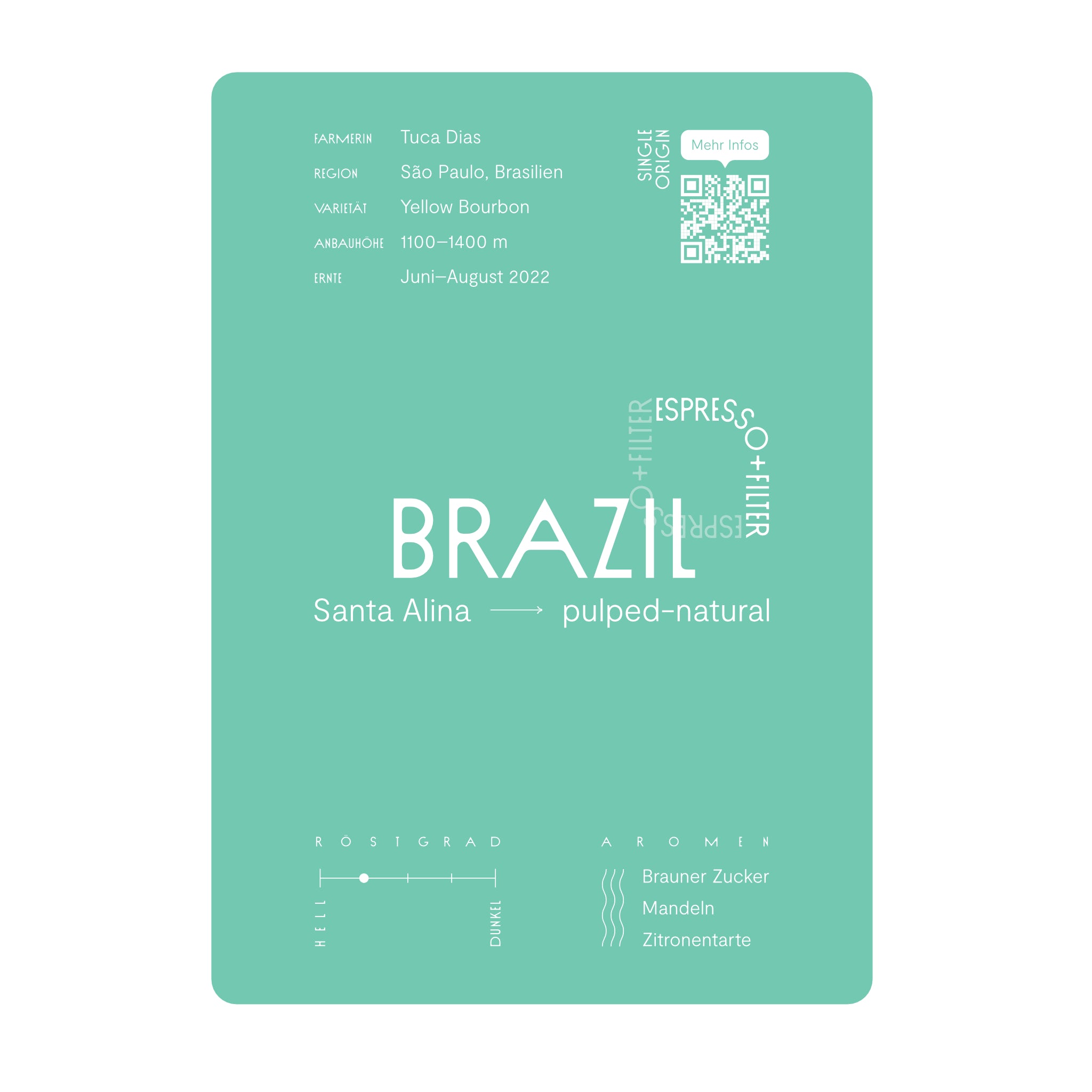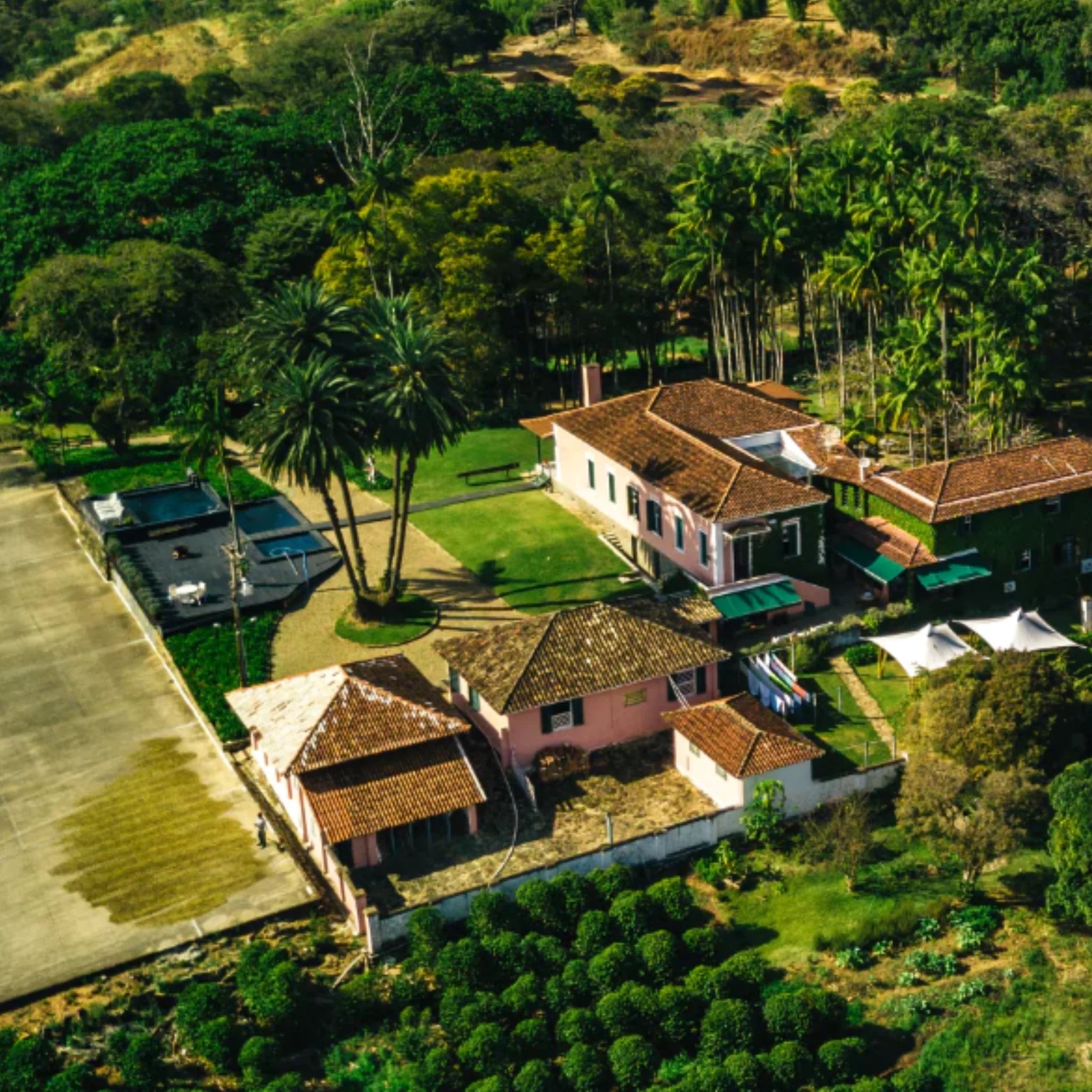 BRAZIL Santa Alina Espresso & Filter Coffee





Freshly roasted with you in 3-5 days
Pickup available at Merianstraße 8 in Freiburg
Usually ready in 5+ days
BRAZIL Santa Alina Espresso & Filter Coffee
250 g / Whole Beans
Merianstraße 8 in Freiburg
Pickup available, usually ready in 5+ days
Merianstraße 8
79104 Freiburg im Breisgau
Germany
Producer
Tuca Dias, Rodrigo Fernandes
Processing
pulped-natural
Taste
Brown Sugar, Almond, Lemon Tart
Grind
medium coarse (Comandante 25 Clix)
Brewing Time
2:40-3:00 minutes
Blooming
40 seconds with 50g water
Instructions
Pour up to 100, 200 and 300 g as soon as the coffee bed is visible
The Omniroast Brazil Santa Alina is suitable as filter coffee and espresso. We taste notes of brown sugar, almonds and lemon tart.
The green coffee is grown on the Fazenda Santa Alina, which is located in a predominantly hilly area. The Silva family has been growing coffee here on 239 of 895 hectares of land since 1907. The majority of the 5,500 bags produced annually come from microlots. That's why Fazenda Santa Alina has repeatedly succeeded in growing some of the best specialty coffees in the region.
In order to produce high-quality specialty coffee, Tuca and Rodrigo have redesigned the farm with great commitment in recent years. They moved the terraces from the valley to higher elevations to avoid the evening humidity and morning dew. In addition, they are constantly investing in new varieties of coffee trees. So they were, for example: one of the first Brazilian farms to grow Bourbon Amarelo.
Since the living and working conditions of the farm workers are important to both of them, a bottom-up management style was implemented that enables active participation and direct communication from everyone involved. Numerous courses are provided on the farm, ranging from finance to sports to cultural offerings, thereby reinforcing the individual development of each farm worker.
Niklas from Freiburg and Luis from Brazil export this coffee to Europe through their company Ocafi .
Sehr guter Filterkaffee
Ein Kaffee für jeden Tag und für jedes Familienmitglied.
Lecker
Heute Mittag im Cafe Marcel gekauft und Nachmittags gleich in der kleinen Lelit Anita probiert.
Bin kein Experte, aber die rote Traube schmeckt man sehr gut heraus, sehr schön süß und den Toffee im Abgang.
Definitiv lecker!
The Perfect Cup
Making Coffee Like A Pro
Kaffee brühen
We'll show you how to make a delicious Americano, what you need and what you can do if you don't like your coffee. Let's go.
Kaffee & Eis
Cold Brew is the ideal summer drink for all coffee lovers. Whether with ice cubes or tonic water: If you're looking for a refreshing drink in summer, cold brew is the right choice.
Kaffee mit Milch
We'll show you how to make a delicious milk coffee, what you need and how to get the ideal, fine-pored milk foam. Let's start.