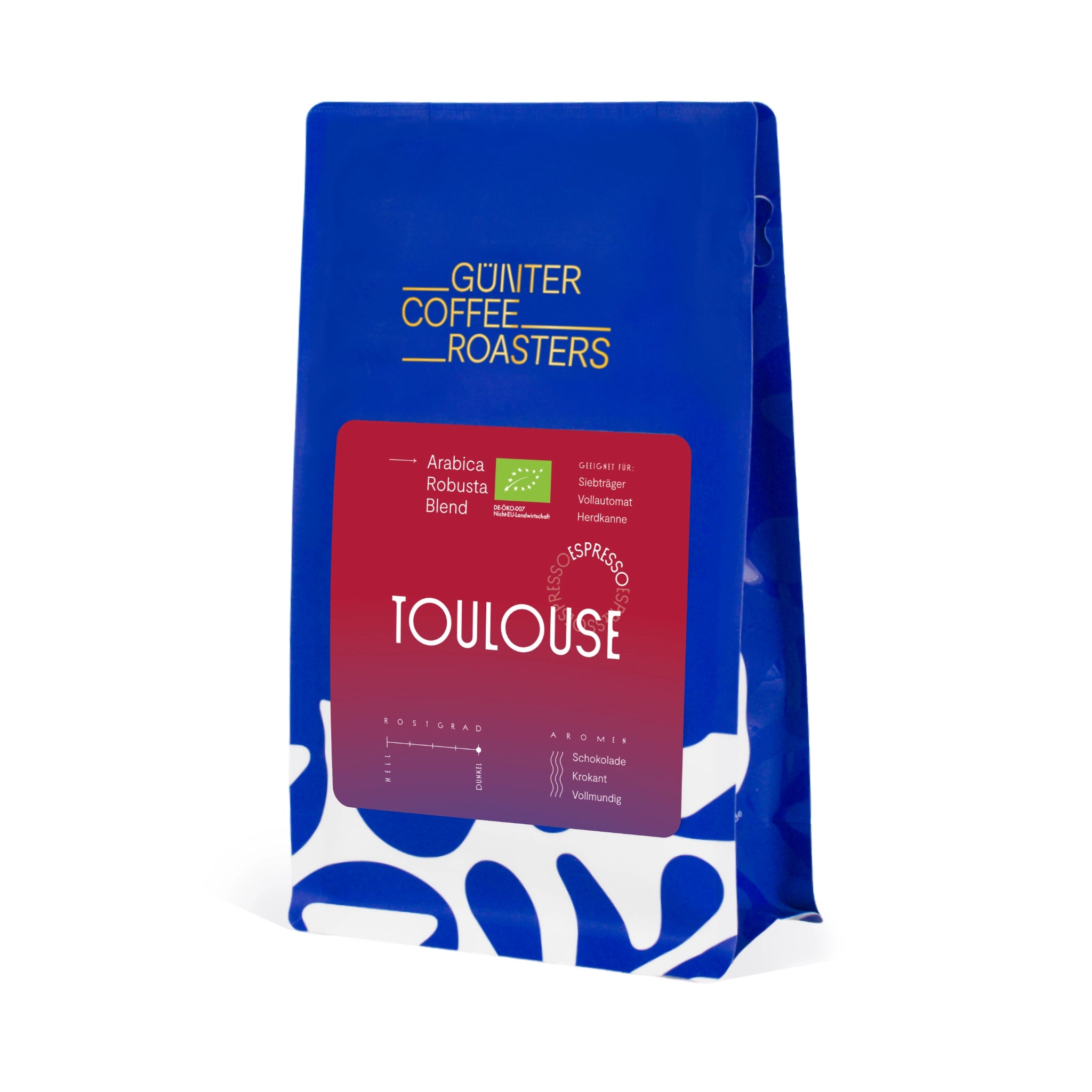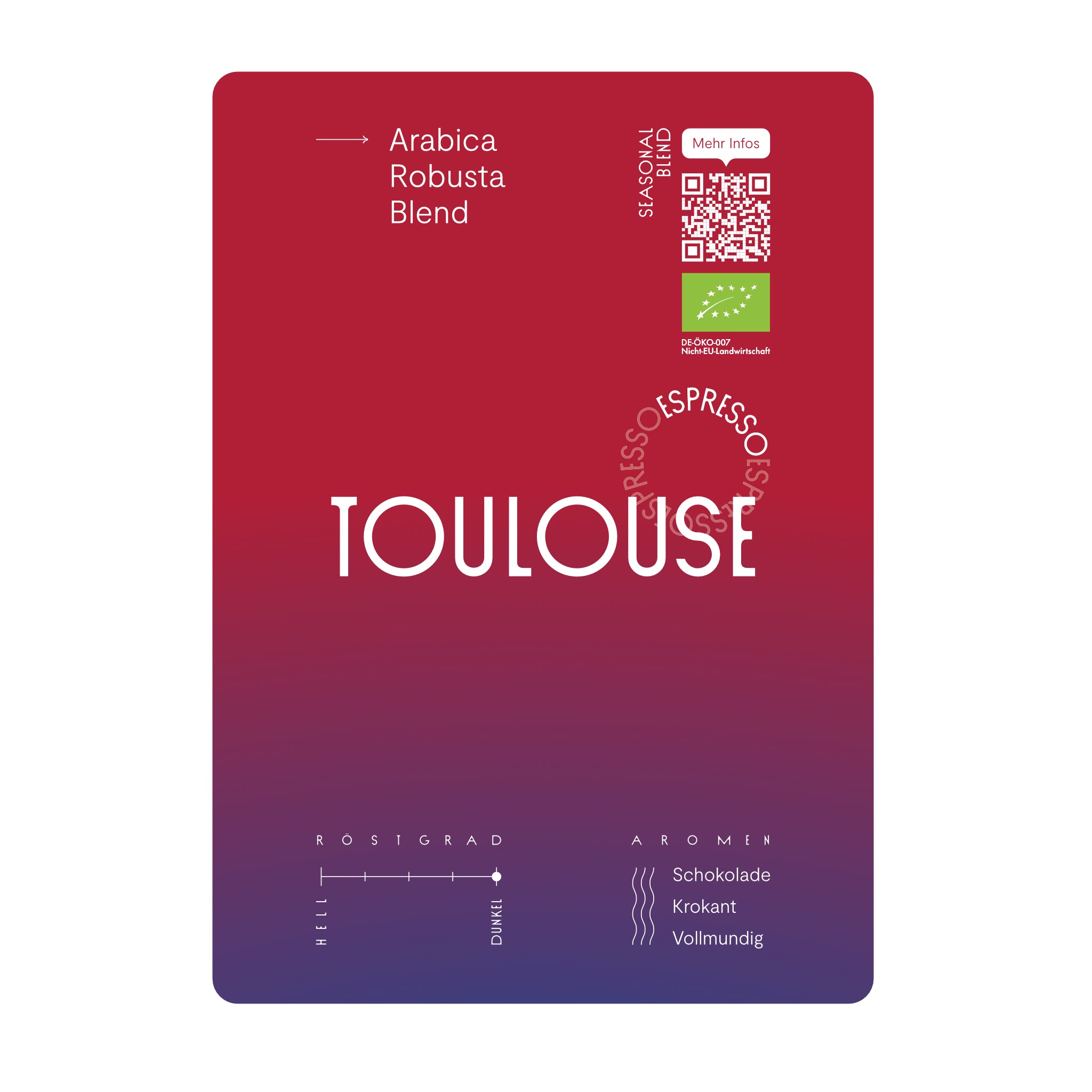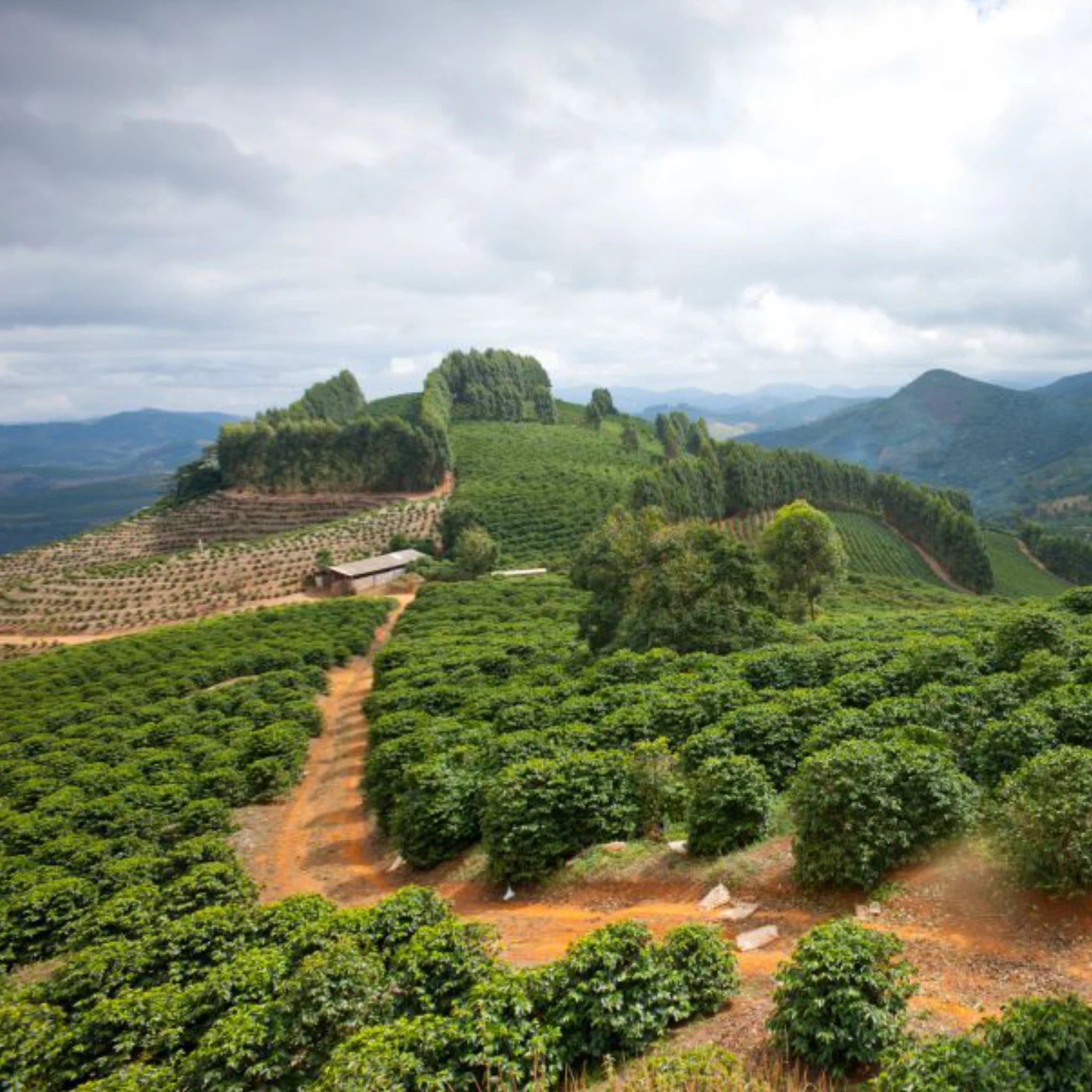 TOULOUSE Blend Organic Espresso



Freshly roasted with you in 3-5 days
Pickup available at Merianstraße 8 in Freiburg
Usually ready in 5+ days
TOULOUSE Blend Organic Espresso
1 kg / Whole Beans
Merianstraße 8 in Freiburg
Pickup available, usually ready in 5+ days
Merianstraße 8
79104 Freiburg im Breisgau
Germany
Origin
India, Brazil, Guatemala
Region
Karnataka (IN), Matas de Minas (BR), Guatemala
Variety
Old Paradenia, Red Catuai, Mundo Novo, Catucai, Bourbon, Caturra, Catuai, Pache
Processing
natural, washed
Taste
Chocolate, Brittle, Full-bodied
Organic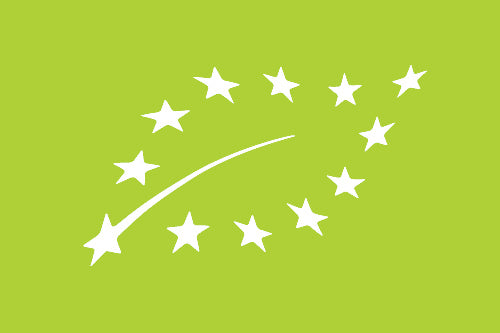 From 100 % controlled organic cultivation. Control point DE-ÖKO-007.
Our currently strongest coffee blend, Toulouse, consists of three sustainable organic coffees and impresses with a full-bodied taste and notes of chocolate and brittle.
That's inside: a Robusta from India, a dry processed Arabica from the Sul de Minas region in Brazil and a washed Arabica from Guatemala. The latter is produced exclusively by women who organize themselves in the International Women's Coffee Alliance (IWCA).
The Vasundra cooperative in India produces the Robusta, which makes up 40% of our Toulouse blend. We source the organic green coffee beans from Indie Roasters in Bielefeld, Germany, who have been buying directly from the cooperative for many years. During their regular visits to India, they get an idea of ​​the work on the organically certified farms. In addition to coffee fields, the farms also have growing areas for spices such as cloves, cardamom, pepper and cinnamon. This means there is no monoculture and the soil is protected. This Robusta grows at an altitude of around 800 meters and ensures the strong body and great crema of our coffee blend.
The Brazilian Santa Clara makes up another 40% of our blend. It comes from the coffee-growing region of Sul de Minas and comes to us via Ocafi. Paulo Teixeira Giordani is the third generation to run the farm. Unlike his forefathers, he has only relied on organically grown coffee since he took over in 1999. He was and is a sought-after pioneer and expert in the region. The lot that we bought for our Toulouse is of the Mundo Novo variety and prepared as pulped natural. It has a medium body and aromas of roasted nuts.
The last 20% of our Toulouse coffee blend is Huehuetenango from Guatemala . The Asociación de Productores de Café Diferenciados y Especiales de Guatemala produces it. The association of currently 664 small producers from various coffee growing regions in Guatemala sees itself as a knowledge broker. The organization passes on knowledge about coffee cultivation and is involved in social projects related to nutrition, education and technical services, such as professional analysis of growing soils. The washed coffee is grown exclusively by farmers and brings a slightly fruity note to our blend. The sweetness, which is reminiscent of caramel, ensures a lasting and balanced aftertaste.
Sehr guter Espresso,
Toller Geschmack und crema
großartiger, vollmundiger Kaffee
Perfekt vom Cappuccio zum Ristretto dopo pasto.
Mit dem Abo immer auf der sicheren Seite, den Kaffee zum Idealen Zeitpunkt nach der Röstung genießen zu können.
TOULOUSE Blend, Bio-Espresso
TipTop Kaffee
Das Päckchen war nach 2 Tagen da.
Nach langem hin und her bin ich endlich fündig geworden. Der Kaffee passt super für meinen Vollautomaten!
Immer wieder gern :)
The perfect coffee
Making Coffee Like A Pro
Kaffee brühen
We'll show you how to make a delicious Americano, what you need and what you can do if you don't like your coffee. Let's go.
Kaffee & Eis
Cold Brew is the ideal summer drink for all coffee lovers. Whether with ice cubes or tonic water: If you're looking for a refreshing drink in summer, cold brew is the right choice.
Kaffee mit Milch
We'll show you how to make a delicious milk coffee, what you need and how to get the ideal, fine-pored milk foam. Let's start.