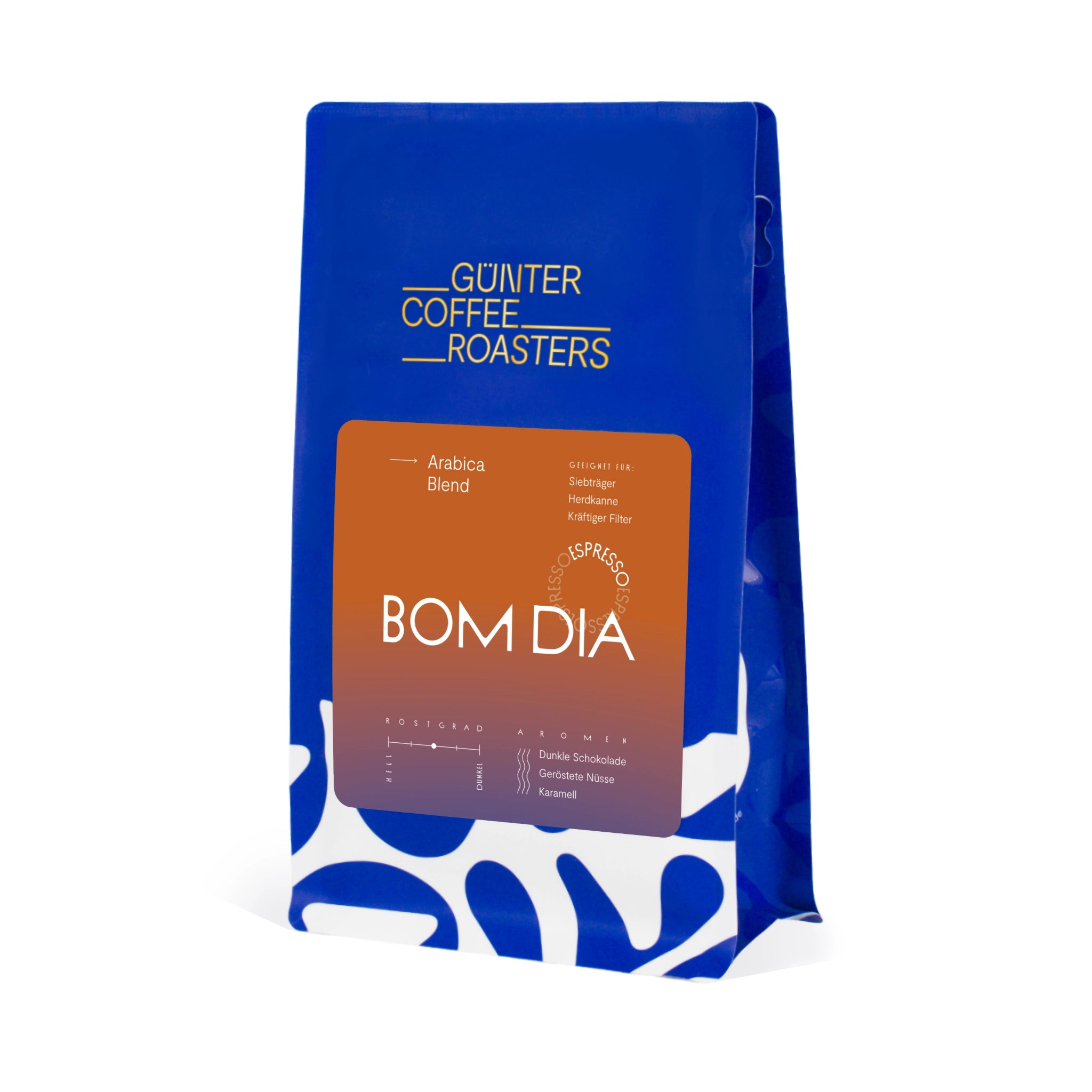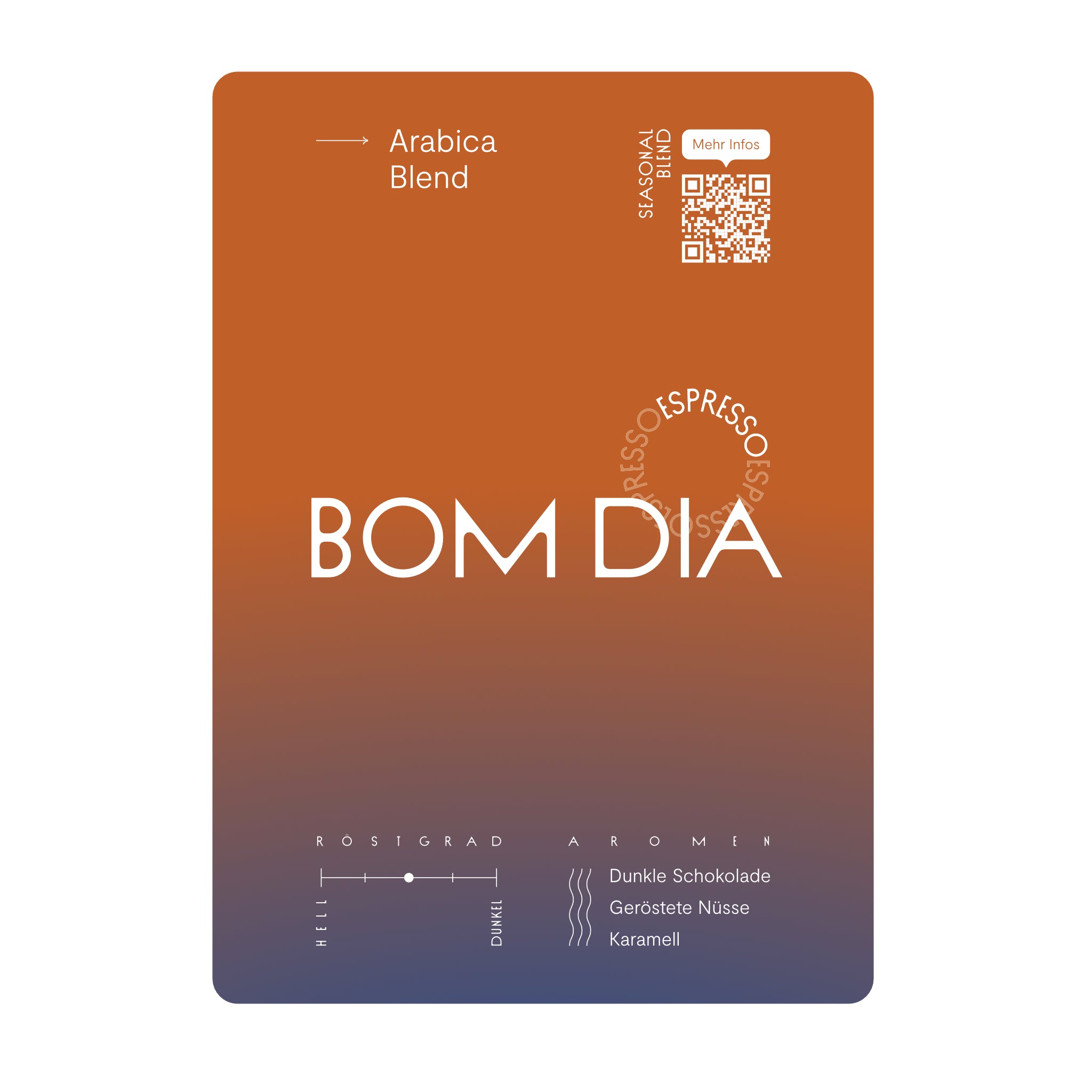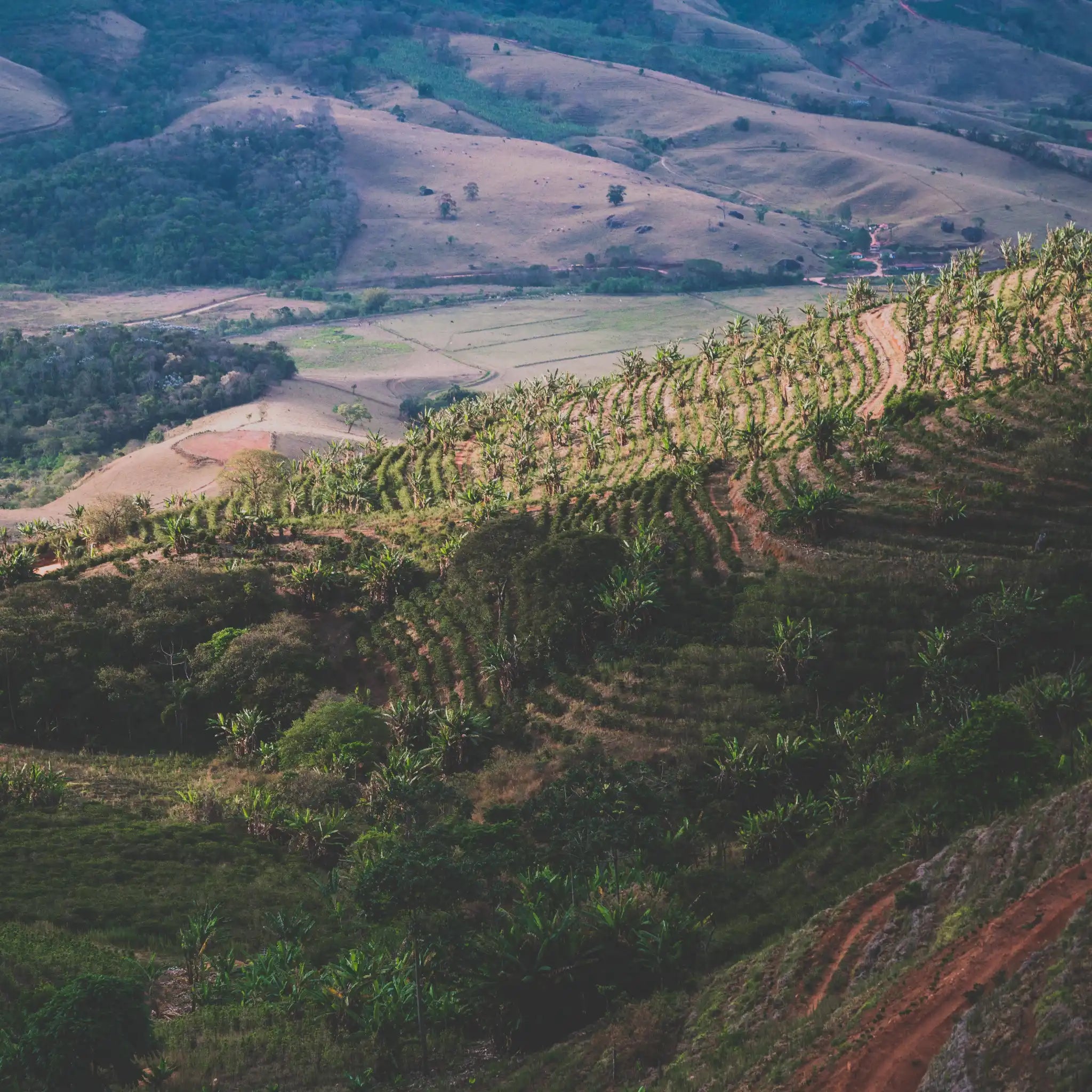 BOM DIA Blend Espresso




Freshly roasted with you in 3-5 days
Pickup available at Merianstraße 8 in Freiburg
Usually ready in 5+ days
BOM DIA Blend Espresso
1 kg / Whole Beans
Merianstraße 8 in Freiburg
Pickup available, usually ready in 5+ days
Merianstraße 8
79104 Freiburg im Breisgau
Germany
Region
Caconde and Serra Negra
Variety
Yellow Catuai, others
Processing
pulped-natural and natural
Taste
Dark chocolate, roasted nuts, caramel
Enjoy a good start to the day with coffee beans from Brazil. Our espresso blend Bom Dia accompanies your morning with sweet and nutty aromas.
70% of this coffee blend is made up of "pulped natural" coffee of the Yellow Catuai variety. This comes from Fazenda Mangaratiba in the Caconde region in Brazil. We source the green coffee beans from Ocafi, a company run by Niklas from Freiburg, Germany, and Luis from Brazil. We have been working with them for several years and use their beans as a base for many of our blends. They ensure traceability and transparency and share our values ​​of sustainability and social fairness .
Ocafi provides us with all the information about the coffees. This means we always know exactly about the supply chain. From sustainable cultivation to pricing and fair wages for employees on the farms in Brazil. Together, it is important to us that people and nature are at the center of production.
The creamy texture and a clear, nutty appearance in the cup are enhanced by the "pulped natural" processing method developed in Brazil. When harvesting by machine, unripe coffee cherries often end up in the containers. The big advantage of the method is that they can be easily sorted out. The fruit is pressed through a funnel, which causes the skin of the cherries to come off. But the pulp remains attached to the bean. Since the skin on unripe cherries is difficult to remove, they are easy to sort. The beans and the pulp are then dried. Only when they are dry are they completely peeled and made ready for export.
The remaining 30% of this coffee is made up of a variety blend from the "Serra Negra Program" from our import partner Cafe Imports. They also come from Brazil. Farmers participating in the program have a buyer for their entire harvest, rather than just special microlots. This guarantees fair pay. Otherwise they may have to sell parts of their harvest below market value in order to secure their livelihood. In addition to nutty notes, there is also a slight fruitiness that is reminiscent of lemon.
Bester Kaffee in Freiburg
Super leckerer Kaffee für unsere Siebträgermaschine
Wir haben jetzt schon seit einigen Monaten das Abo für Bom Dia Bohnen und sind immer noch total glücklich! Sie kommen immer super frisch aus der Rösterei und werden pünktlich geliefert. Wir lieben das eher milde Aroma und machen aus den Bohnen fast ausschließlich Cappuccino.
wie erwartet
Liebe Roasters in Günterstal, der Brasilianer passt super in mein Brewing-Profil znd ich bin damit super zufrieden. Allerdings stammt diese Bewertung noch vom letzten Mal, den neuen habe ich noch nicht geöffnet, der kam so taufrisch geröstet bei mir an, dass ich ihn noch liegen lassen musste.
Grüße aus Stuttgart,
MARTIN
The perfect coffee
Making Coffee Like A Pro
Kaffee brühen
We'll show you how to make a delicious Americano, what you need and what you can do if you don't like your coffee. Let's go.
Kaffee & Eis
Cold Brew is the ideal summer drink for all coffee lovers. Whether with ice cubes or tonic water: If you're looking for a refreshing drink in summer, cold brew is the right choice.
Kaffee mit Milch
We'll show you how to make a delicious milk coffee, what you need and how to get the ideal, fine-pored milk foam. Let's start.