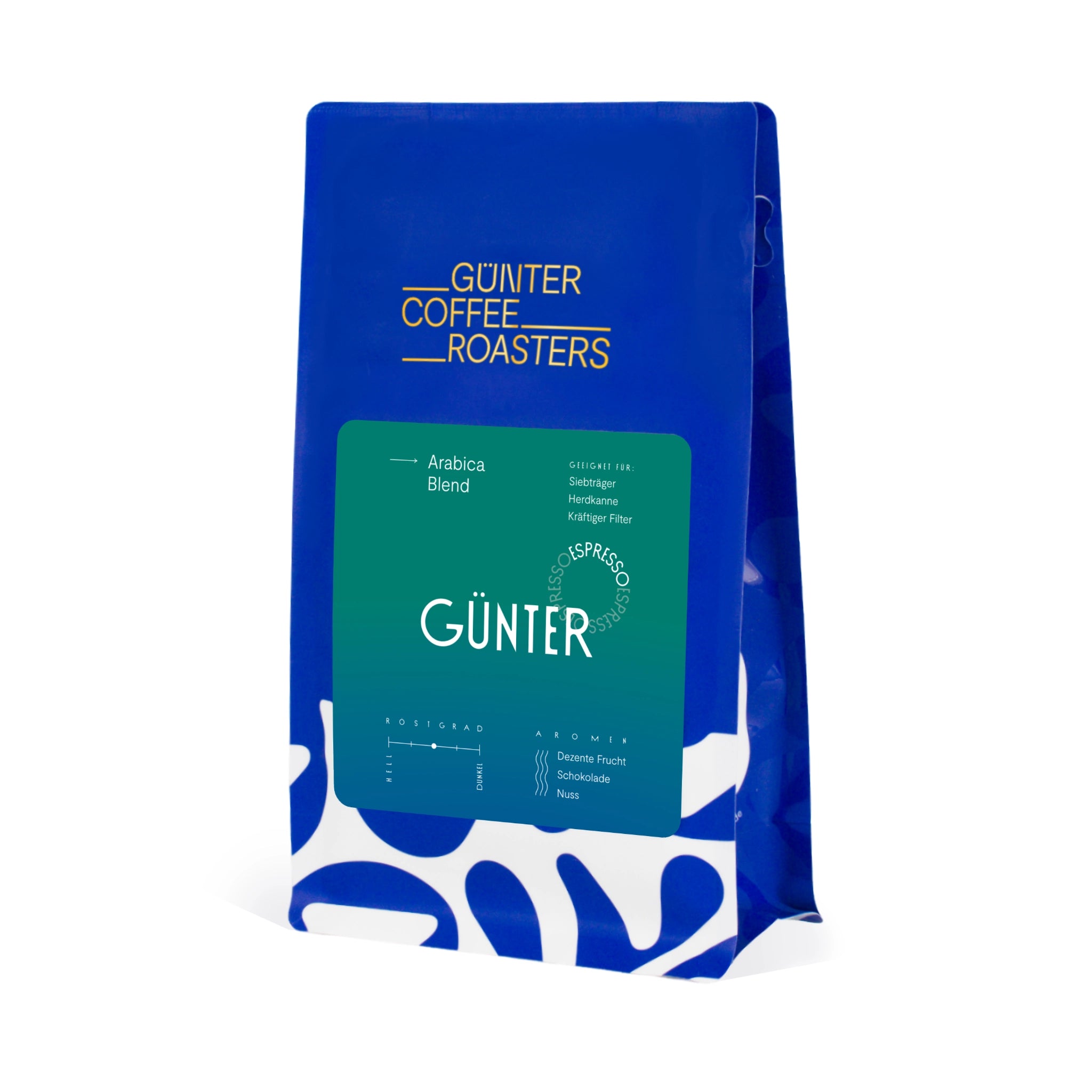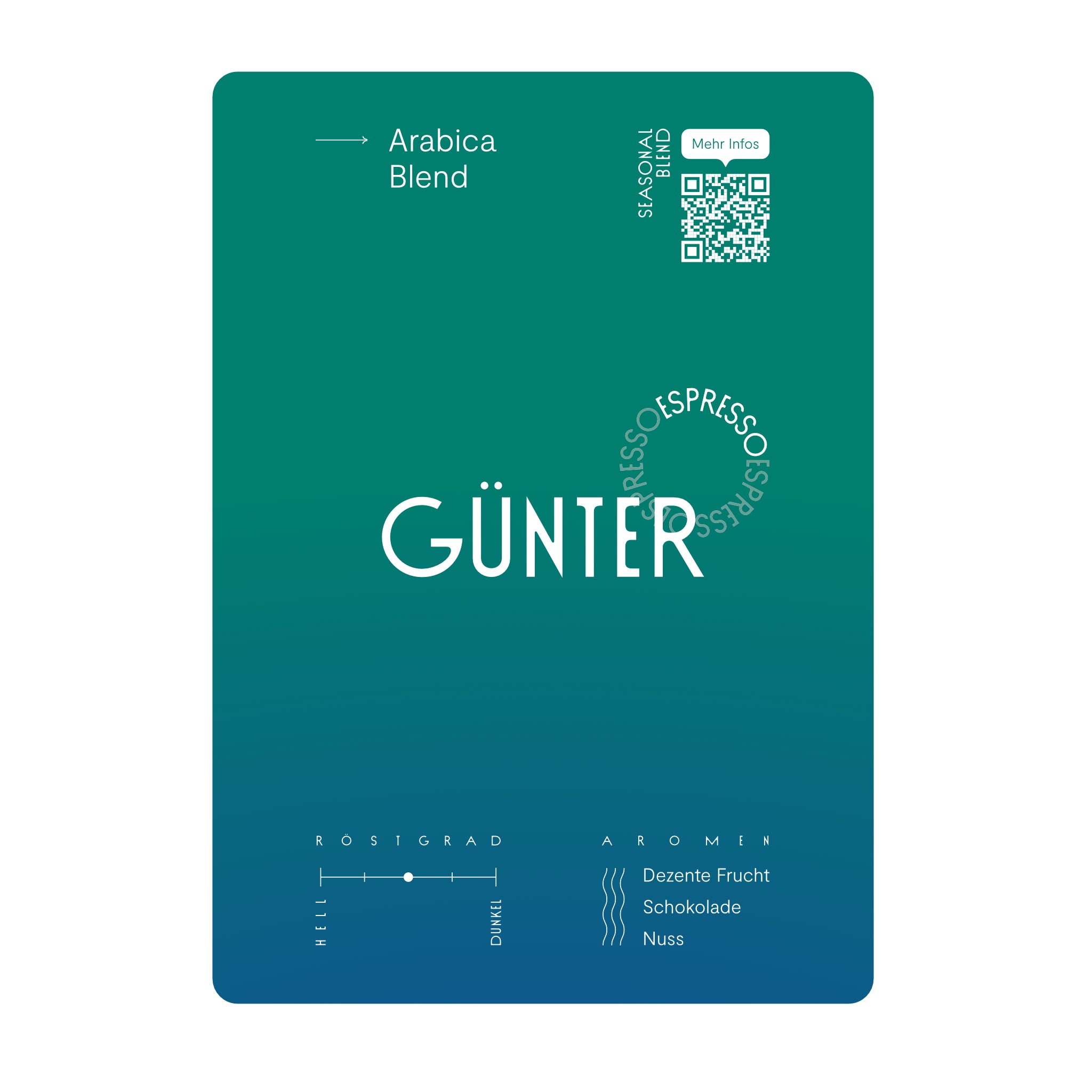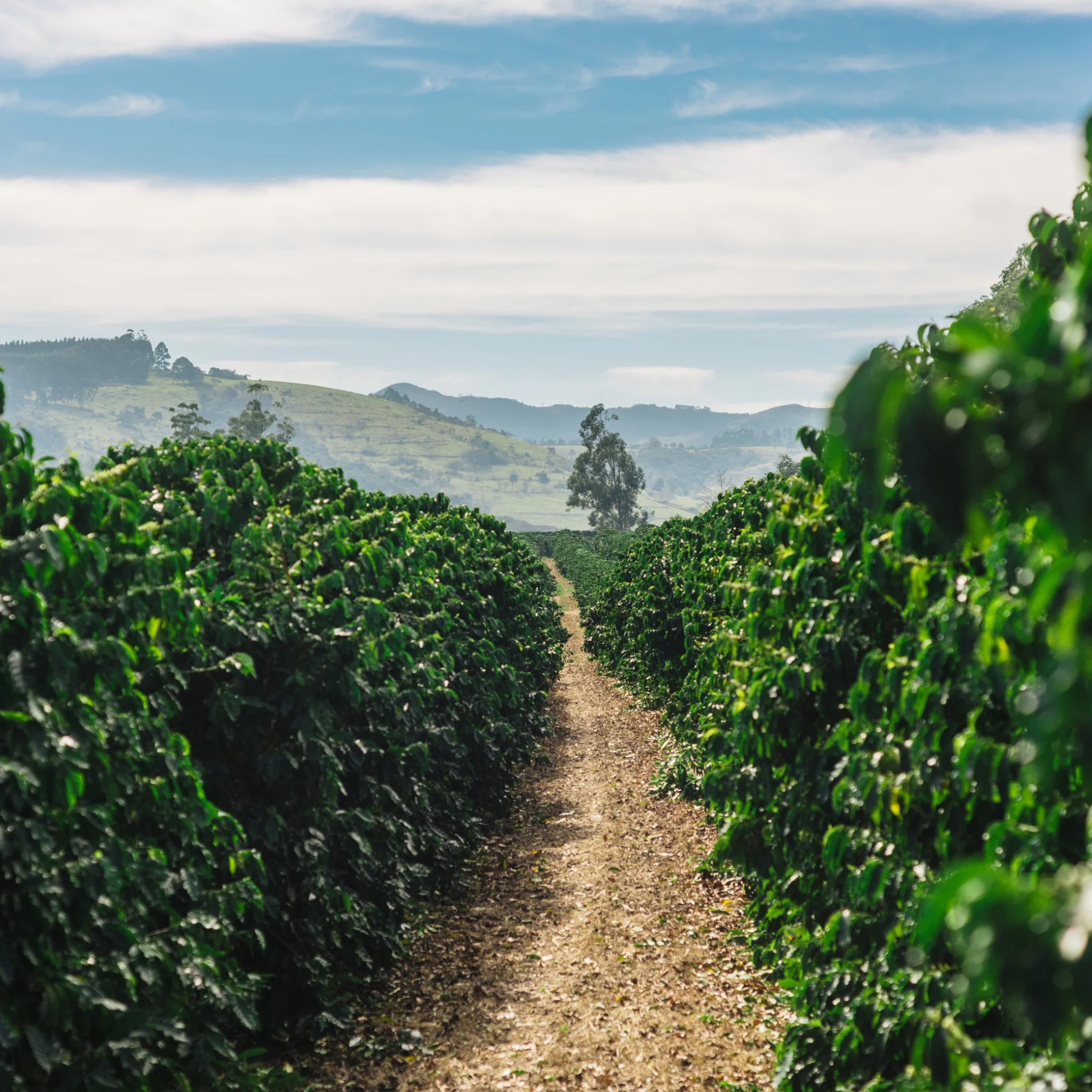 GÜNTER House Blend Espresso




Freshly roasted with you in 3-5 days
Pickup available at Merianstraße 8 in Freiburg
Usually ready in 5+ days
GÜNTER House Blend Espresso
1 kg / Whole Beans
Merianstraße 8 in Freiburg
Pickup available, usually ready in 5+ days
Merianstraße 8
79104 Freiburg im Breisgau
Germany
Region
Caconde (BR), Serra Negra (BR), Kaffa (ET)
Producer
Alessandra Lopes, Elinton Silvério, Ahadu Woubshet and others
Variety
Yellow Catuai, 74165, 74110, others
Processing
pulped-natural, natural
Taste
Subtle fruit, chocolate, nuts
Our signature blend Günter is a light roasted, fruity-sweet espresso blend with chocolatey-nutty notes and a particularly long-lasting, creamy mouthfeel. Friends of stronger filter coffees will also get their money's worth with this blend.
We keep developing this roast every year. In this year's version (2023) we have chosen green coffees from two countries. These include two coffees from Brazil and one from Ethiopia. At 50%, the Arabica variety Yellow Catuai from Fazenda Mangaratiba in the Caconde region, Brazil, has the largest share. With its chocolaty aromas and creamy texture, it forms the basis for our Günter. We buy this green coffee directly from Niklas and Luis, who bring high-quality beans to Europe with their company Ocafi.
Luis and his family cultivate coffee on a total of five farms in the Mogiana region. Together with Niklas, he exports the beans from his farms and farmer friends directly, including the green coffees from Fazenda Mangaratiba. The farm is run by Alessandra Lopes and Elinton Silvério, who pay particular attention to ecological sustainability and social fairness.
Another 25% of Günter consists of a variety blend from the "Serra Negra Program" from our import partner Cafe Imports. Farmers participating in the program have a buyer for their entire harvest, rather than just special microlots, and are paid fairly. This means they don't have to sell their specialty coffee below market value in order to secure their livelihood. In addition to nutty notes, there is also a slight fruitiness that is reminiscent of lemon.
The balanced sweetness and light floral notes in our Günter come from the 25% share of the Ethiopian variety 74110. It grows on the Tega & Tula farms that Ahadu Woubshet operates in Ethiopia. Harmony with nature is particularly important when growing. The coffee cultivation areas are certified organic and are located at an altitude of 1,880 to 2,200 meters in the Kaffa region . Here, the coffee farmers cultivate coffee plants in shady areas in the forests and pay particular attention to quality and traceability.
Sehr lecker
Sehr lecker, hatte bei Besuch der Rösterei bereits einige Hinweis zu brew ratio etc. erhalten und brauchte dann zu Hause 3-4 Anläufe.
Super lecker, schnelle Lieferung
Mein absoluter Favorit
Etwas tüfteln muss man schon, aber wenn dann mit dem richtigen Rezept das richtige Getränk unten raus kommt, ausgewogen fruchtig süß mit Karamelnote und genügend Tiefe, hat sich allemal gelohn. Tipp meinerseits: eher in Richtung 28 oder gar 30 Sekunden brühen bei 1 Teil rein zu 2 Teilen raus.
Tolle Bohnen!
Einer meiner beiden Lieblingskaffees.
Geschmack im Cappuccino überzeugt voll, durfte dies im Café in Günterstal entdecken.
Kaufe ihn immer gerne wenn ich in Freiburg bin 👍
The perfect coffee
Making Coffee Like A Pro
Kaffee brühen
We'll show you how to make a delicious Americano, what you need and what you can do if you don't like your coffee. Let's go.
Kaffee & Eis
Cold Brew is the ideal summer drink for all coffee lovers. Whether with ice cubes or tonic water: If you're looking for a refreshing drink in summer, cold brew is the right choice.
Kaffee mit Milch
We'll show you how to make a delicious milk coffee, what you need and how to get the ideal, fine-pored milk foam. Let's start.