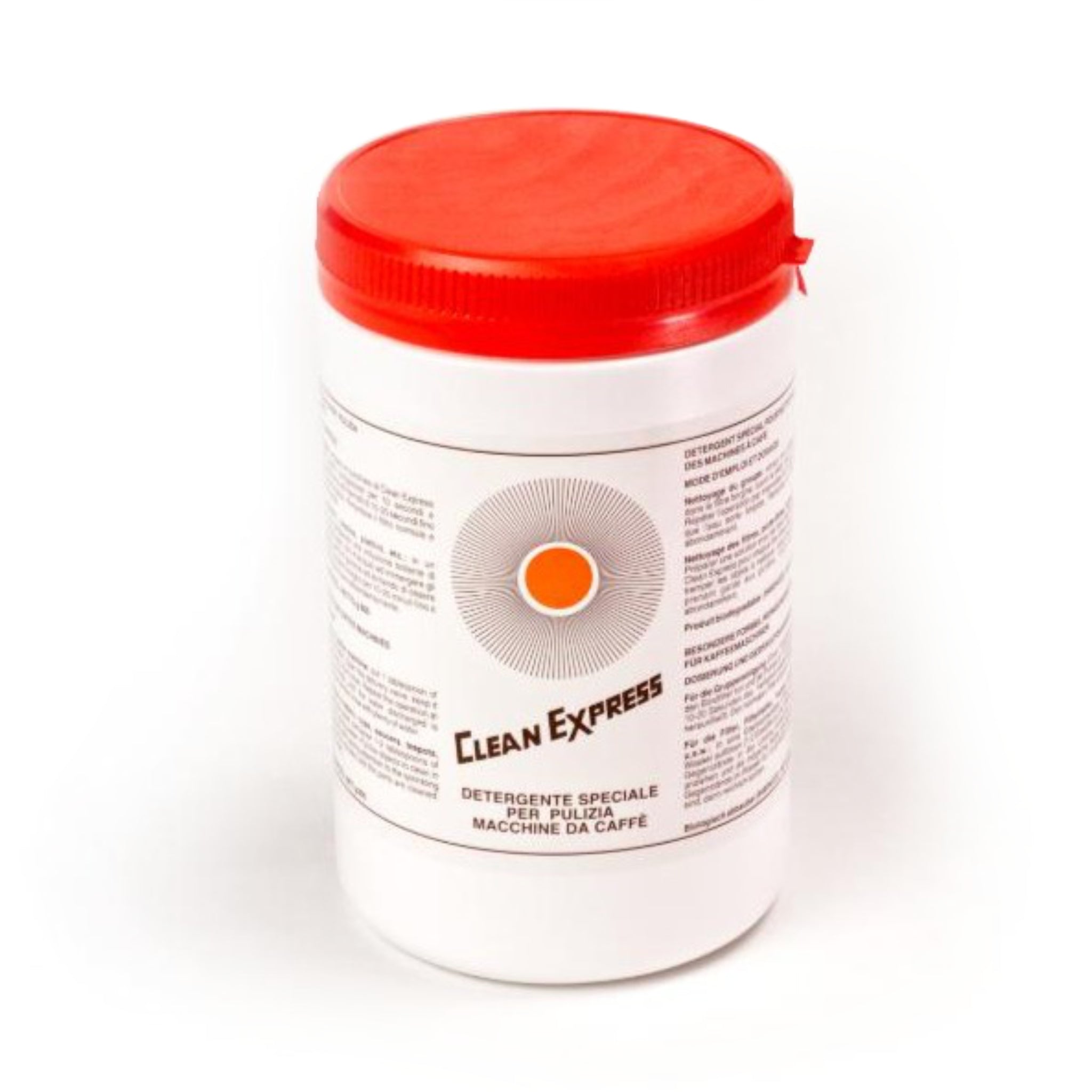 Clean Express cleaning agent for coffee machines
✔
For portafilters and fully automatic machines
✔
Cleans coffee fats and oils
In stock and with you in 3–5 days
Pickup available at Merianstraße 8 in Freiburg
Usually ready in 5+ days
Clean Express cleaning agent for coffee machines
Merianstraße 8 in Freiburg
Pickup available, usually ready in 5+ days
Merianstraße 8
79104 Freiburg im Breisgau
Germany
The secret against coffee fat and grease
With the Clean Express cleaning powder you can easily remove residues such as coffee fat and oils from your portafilter machine or fully automatic coffee machine. For private use, we recommend cleaning the machine at least once a week . The reason: Oil and fat quickly become rancid and then negatively affect the taste of your coffee.
Clean Express instructions for cleaning the portafilter
Remove the portafilter from the machine and insert the blind sieve.

Clean the brew group with a brush.
Place a heaped teaspoon of Clean Express onto the sieve and anchor the portafilter in the machine.
Start the brewing process for approx. 10 seconds until the pump can only be heard quietly.
Remove the portafilter and hang it back up.
Repeat the process without Clean Express until clear water flows into the brew group overflow again.
Place the portafilter, sieves and, if necessary, other equipment in hot water with a little Clean Express for about 15 minutes and then rinse well.
Complete!
Clean Express instructions for cleaning the fully automatic machine
Fully automatic coffee machines often offer a cleaning mode. The best way to find out how to do this is to refer to the operating instructions for your device. For fully automatic machines without a cleaning function, we recommend the following procedure:
Add a heaped teaspoon of Clean Express into the coffee powder chute.
Select ground coffee button.
Press the button for a large cup of coffee.
As soon as water flows out of the outlet, turn off the machine and wait 5 minutes.
Switch on the machine and press the large coffee button repeatedly until only clear water comes out of the dispenser.
Complete!
Product overview Clean Express 900 g
Keeps the coffee machine clean so that it functions smoothly

Regular cleaning ensures your coffee always tastes the way it should

Extends the life of your machine
Biodegradable

Weight: 0.9kg